12 grapes at midnight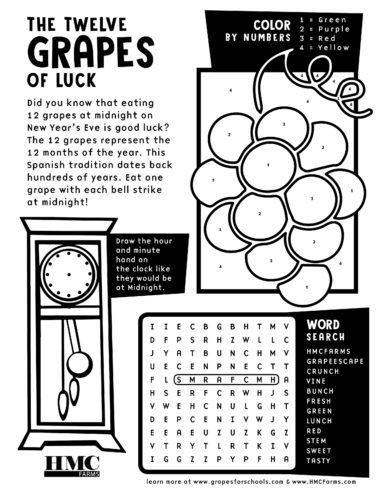 Did you know in Spanish culture it's considered good luck to eat grapes at midnight on New Year's Eve?  Las Doce Uvas de la Suerte (The Twelve Grapes of Good Luck) is a Spanish tradition dating back to the late 1800s.  This tradition involves eating a grape with each bell strike at midnight on December 31st for prosperity and good fortune in the coming year.  The twelve grapes represent the 12 months of the year.
We partnered with The Produce Moms to create a fun, educational activity sheet to teach kids about this tradition. Try your luck at midnight, but remember to chew and swallow carefully. Have a safe and happy new year!
To learn more about our grapes, visit our websites www.grapesforschools.com and www.hmcfarms.com.